REQUEST INFO HORS D'OEUVRES CAKES IN-HOUSE EVENTS PERSONAL CHEFS BEVERAGE PACKAGES TESTIMONIALS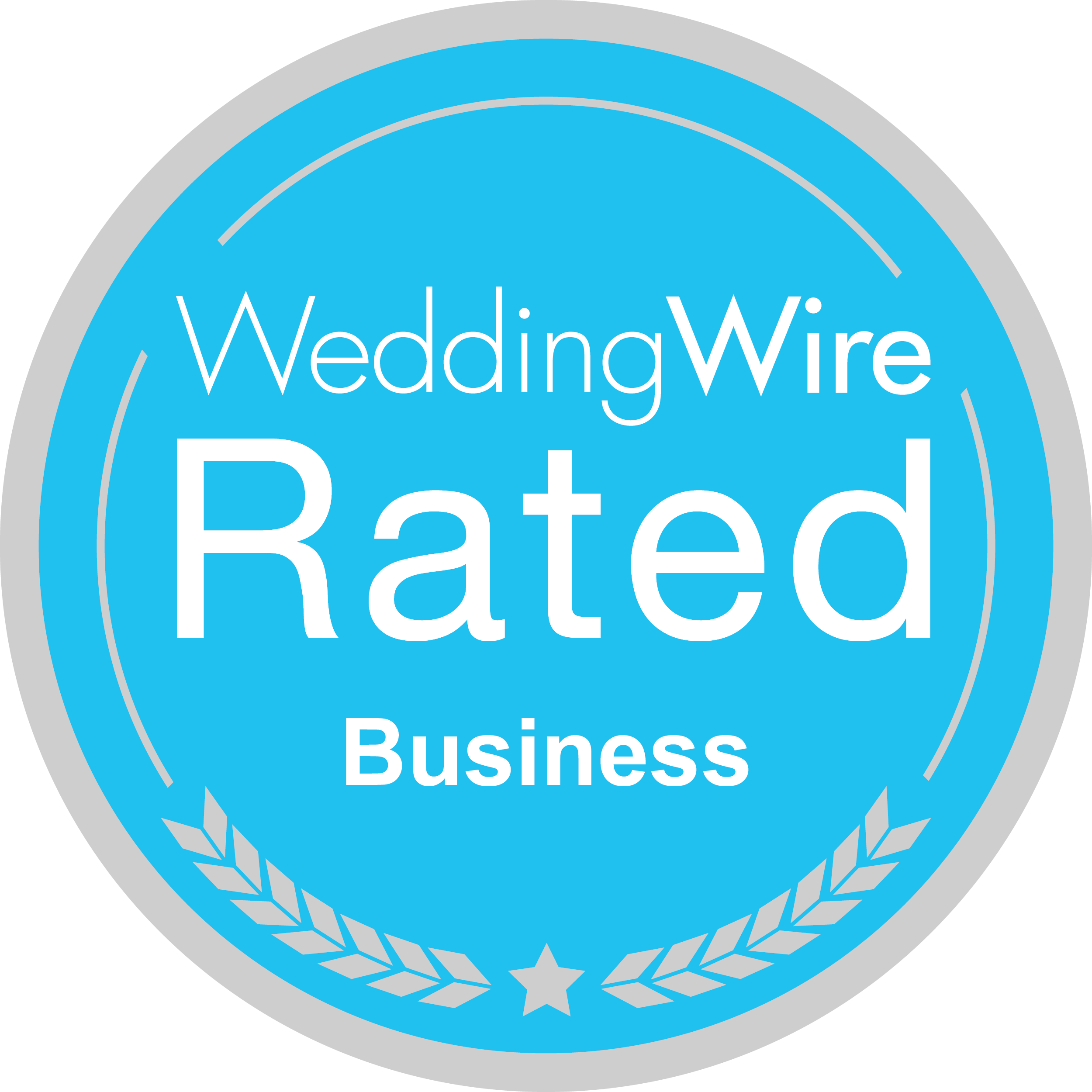 For more reviews, check us out on Wedding Wire! 
---
As owners of The Colington Cafe we hold high standards for food and service and we couldn't have been happier with Lone Cedar and staff. From the warm petit country ham biscuits and tuna on wontons to the Best Lump Crabcakes (even better than ours ? and Filet Mignon, the food was perfect. The staff went over and above, having to move tables, and always kept a great attitude and professionalism..They even did a super job cutting the cake and cleaning up, having to weave through a big crowd–always smiling. I would highly recommend Lone Cedar to anyone who wants a wonderful experience from start to finish.
— Carlen and Kenny
---
Caroline, Victoria and Ron were wonderful to work with. The food and wedding cake were out of this world. Our small intimate family gathering was not compromised by their presence it was brought to the highest level with their attention to detail and service. We could not have anticipated a lovelier dinner, reception or wedding brunch the morning after. All raved about every detail! Thanks so much!!!
— Wedding: Recently Married
---
We enjoyed a wonderful evening at the Lone Cedar Cafe for our wedding dinner. The food and the service were excellent.
— Bonnie
---
It wasn't really a wedding but rather a post-wedding breakfast that my mother hosted for my cousin, the bride. Basnight's provided both the waterside-view venue and the yummy made-to-order omelets, creme-fraiche-and-fresh-berry crepes, seasonal sweet fruit, and traditional danishes, along with coffee, juice and water for the event. But the icing on the cake, so to speak, was the can-do service with a smile.
— Kim
---
We are more than thrilled with our choice of Lone Cedar for our wedding catering! From our tasting, we knew we made the right choice with such amazing food. Our guests raved about how good our food was. Victoria was VERY responsive and was super helpful in planning our menu. They even made us to go boxes for our long car ride to our honeymoon after the reception. We would choose Lone Cedar over and over again!
— Lindsey
---
Lone Cedar was such a pleasure to work with! They made the process so easy and Victoria was so quick to respond. She was so knowledgable in the services they offered! I really enjoyed working with them, not to mention, our wedding food was OUT OF THIS WORLD!!!! We had so many compliments about it!! I definitely recommend Lone Cedar for any event!!
— Samantha
---
Victoria was wonderful to work with. She was responsive and willing to work with any changes I needed made. Our guests raved about the food; they packed up our leftovers for us at the end of the night; all the workers were pleasant and very helpful. Worth every penny.
— Bernadette
---
We have used Basnight's Lone Cedar for several events over the past three years. They are simply the best. The food is always delicious and beautifully prepared. Their crabcakes ar simply the best in the world. Their fish is always fresh and their wine selectionis simply the best in the Outer Banks. We have always had wait staff that were efficient, courteous and fun with the guests. At one party, they were so good they received a standing ovation from the attendees.
— James
---
I had a 25th anniversary dinner catered by Lone Cedar Cafe in an ocean front beach cottage we were renting. Victoria with whom I worked with to come up with a menu that worked for our dinner was awesome and had wonderful ideas! The Chef and sever showed up in plenty of time to "size up" the situation and were awesome! The food was prepared to perfection and served perfectly. The chef and the server were just perfect for our group and enough could not have been said about the service and the meal. I think we'll do it again next year and just come up with a reason to celebrate as it was that good.
— Barry
---
Basnight's Lone Cedar Catering was a fantastic partner in our daughter's wedding at Jennette's Pier, Nags Head NC on May 13, 2017. We live in MN so managed this long distance with the help of our wedding planner. Victoria at Lone Cedar was responsive, helpful and flexible from the beginning! She worked with us to meet our needs and budget. We visited Nags Head a couple months before the wedding to finalize the plans directly. It was great to meet her in person! The food was very good and we did hear this from numerous guests. It was served hot, fresh and timely. They supplied the bartender, as well. Thank you so very much for your important role in making the wedding really quite perfect!
— Mary Ellen
---
We had our reception at Lone Cedar Cafe. The staff was very helpful and the food was delicious! Very happy with their service before hand and the day of our event. They were very easy to work with which was such a relief since I live 8 hrs from Outer Banks.
— Autumn
---
Amazing staff and service! 6 days after hurricane Matthew without power, Lone Cedar pulled off the most amazing rehearsal dinner, reception, and wedding cake! Above and beyond, exceeding expectations, so thankful we used Lone Cedar, simply the best!
— Misty
---
The Food was insanely good, this is NOT an understatement!! I was having a difficult time finding any caterer that could do an entirely vegetarian wedding, every place I called would give me the run around and would price out a meal with some type of meat – seafood- chicken, like they weren't listening. Not Lone Cedar, called me back immediately every time and never had to send back the menu for revision. We loved this place so much, we went there for dinner a few days after the wedding. The catering staff was super nice and professional. LOVE LOVE their food.
— Scarlet
---